Automate your Online Radio
Upload your songs, create playlists and schedules and let our Auto DJ do the work for you. Use it around the clock or use it whenever you're not streaming live. Auto DJ requires a separate radio hosting plan, which is not included.
Starting from
$8/mo
Billed Annually
Radio Automation Platform
Automate your radio station with our Auto DJ services. Auto DJ is included free of charge with select radio streaming plans.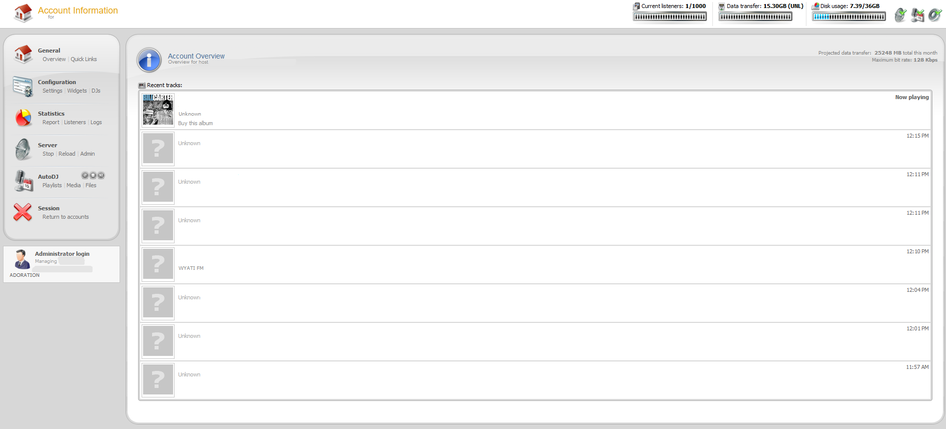 Easy to use
Simply upload your audio files, create your playlists and schedules and start broadcasting.
You're in Control
Use Auto DJ as much as you like. When you're ready to go live, simply switch it off, and connect your encoder.
Audio Ads
Easily generate revenue by inserting audio ads into your playlists.
Works with SHOUTcast
Auto DJ is compatible with SHOUTcast, the most popular audio streaming platform.
Auto DJ Streaming Service you can rely on
Your station needs reliable service with zero downtime. Get access to fully managed and maintained services, supported by a team of professionals, available around the clock.
Talk to us about a solution for...

Websites
Is your website running slow? Let us help improve user experience, capacity and security. Talk to us.

Database
Are you looking for fast, secure and scalable database solutions? We deploy custom crafted, managed database solutions for your business. Give us a call.

Business Applications
Hosting your own applications can lead to disasters. Our managed hosting solutions deliver reliability and peace of mind.

Private Cloud
Are you ready to move to the cloud. We deliver custom crafted private cloud solutions, with dedicated hardware and infrastructure.

Live Audio Streaming
Broadcast live audio to all devices, globally. Deploy your online radio on a low latency network built for streaming.

Web Hosting
Industry leading uptime, low prices, and 24/7 customer support. Chat with us for more details.

CHAT WITH AN EXPERT
Or call us at 1 917 284 6090
Radio Station Automation from the Cloud
Control your online radio from anywhere. Login from any device, to update your schedule or playlist, start or stop your broadcast or simply access your statistics. Call or chat with us for more details.