Stream Live Video to Any Device
Live video delivery has never been so easy. Reach any screen, anywhere, from a single encoded source. Use any H.264 compatible hardware or software encoder.
Starting from
$29/mo
Billed Annually
Live Video Streaming From your Computer
Stream live video from any PC or Mac through Flash Media Live Encoder. The encoder is free of charge.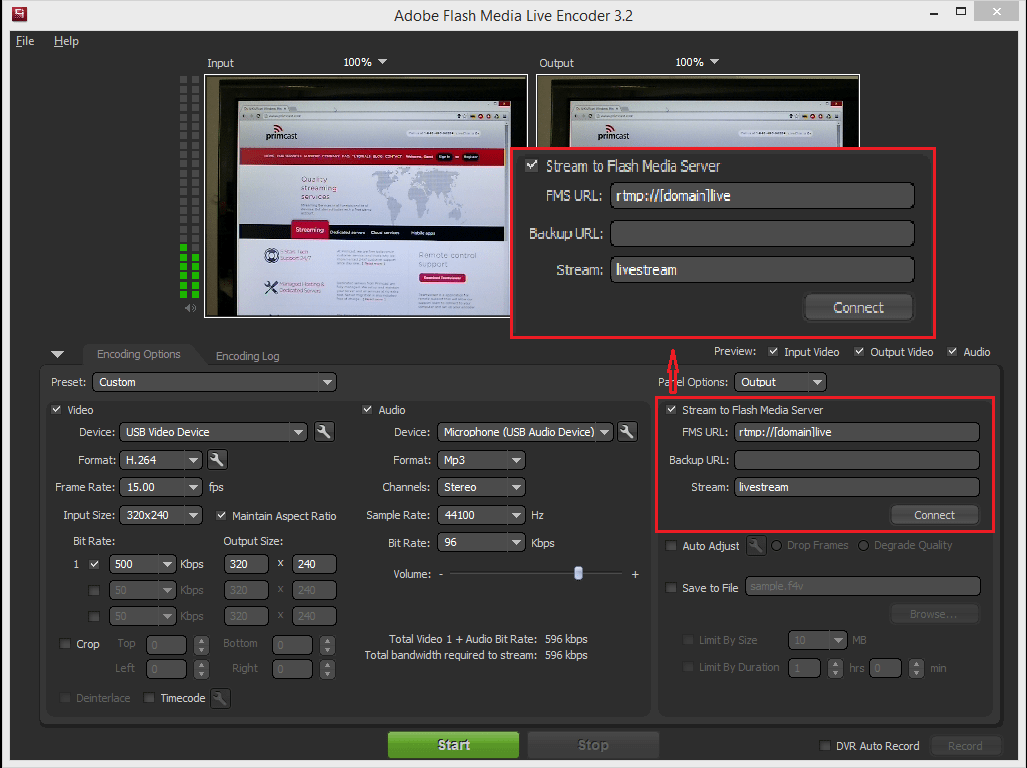 Distribution*
Make your video content available on any device. We handle distribution to all markets, including ROKU, Amazon, Mobile Devices and Desktops.
*Only available with Enterprise Plan.
Free Encoder
Choose our Enterprise video streaming solution and get a free Cerevo LiveShell 2, delivered to your door. Use the encoder and any HDMI output camera, to stream live from anywhere, by creating a WIFI Hotspot with your mobile device.
No Limits
Expand your viewership potential. All of our live video streaming solutions come with no bandwidth limits, and no ads on your stream.
Monetize
Generate revenue for your station by serving pre-roll, mid-roll, post roll or overlaying ads on your video stream. Our player seamlessly integrates with Google DFP, Tremor Video and Aol ONE.
Pay Per View
Generate pay per view revenue from your live stream, by restricting your video content to viewers with paid access. The cost is just 2.5% + $0.99 per ticket sold + credit card fees. Choose any of our live streaming plans, and integrate our player with Cleeng PPV.
Transcoding and nDVR
Deliver rich media at 4 different bitrates from a single source. Your users can pause and rewind your live video feed, with our DVR add-on. Features available with our Enterprise plan.
Uptime
Reliability is key to any successful live broadcast. Get fully managed live streaming services backed by a 99.9% uptime SLA.
24/7 Support
We know streaming, specifically live streaming. Get access to instant support, via phone or live chat, anytime around the clock.
Our live video streaming services are compatible with most H.264 video encoders. Choose from software or hardware encoders based on your requirements and budget or use the recommended encoders listed below:
Stream Live from Anywhere
Broadcast any event, from anywhere, live, and reach any device, worldwide. Use the Cerevo LiveShell 2, portable video encoder to stream live from any camera with an HDMI output.
Turnkey Video Streaming Solutions
We have precise solutions, for any streaming requirement. Get a custom architected video streaming solutions designed specifically for your business.
Ready to go Global? You've come to the right place. Use our low latency network to streaming anywhere with minimal buffering.
Talk to us about a solution for...

Websites
Is your website running slow? Let us help improve user experience, capacity and security. Talk to us.

Database
Are you looking for fast, secure and scalable database solutions? We deploy custom crafted, managed database solutions for your business. Give us a call.

Business Applications
Hosting your own applications can lead to disasters. Our managed hosting solutions deliver reliability and peace of mind.

Private Cloud
Are you ready to move to the cloud. We deliver custom crafted private cloud solutions, with dedicated hardware and infrastructure.

Video on Demand
Rich media delivery, to any screen, directly from our custom built streaming platform. Talk to us for more information.

Web Hosting
Industry leading uptime, low prices, and 24/7 customer support. Chat with us for more details.

CHAT WITH AN EXPERT
Or call us at 1 917 284 6090
Broadcast Video Online to ANY size Audience
We deliver scalable, custom crafted video streaming solutions for one time event, broadcasting stations that operate 24/7. We accommodate large events with up to 1,000,000 simultaneous connections or more. Contact us for a free consultation.