Video on Demand Platform
High Definition Video Delivered to your Viewers on Demand
Video on demand platform for rich media delivery to any device. Upload your video content to your account, create playlists and schedules, embed our player on your website and start broadcasting. Give your viewers access to all your videos for on-demand playback or deliver your rich media from a playlist as if it were live.
Starting from
$29/mo
Billed Annually
Streaming Platform for Video on Demand
Upload your content, create playlists, schedules and deliver video on demand to any screen, globally. Monetize your content with VAST ads from Google DFP, Tremor Video or Aol ONE or use your own pre-roll ads.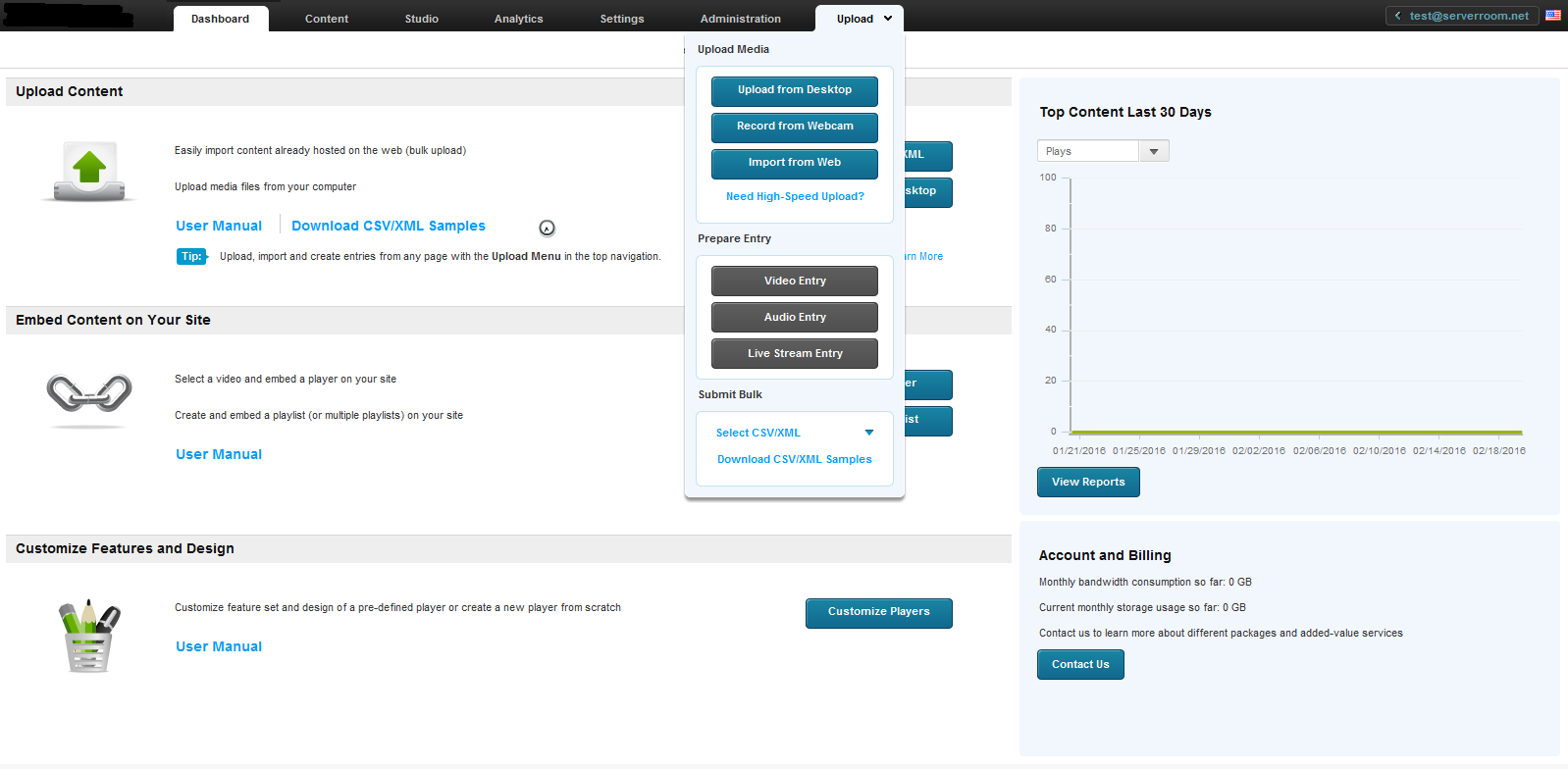 Video Platform
Use our custom built video platform to upload your files, create playlists and schedule your broadcasts.
Global Delivery
Use our low latency network to broadcast your rich media, anywhere without loss of quality.
Unlimited
Get ad-free on demand video streaming, with unlimited plays and no bandwidth limitations.
Distribution*
Your rich media, delivered to any device, with your own app. We handle distribution to all markets, including ROKU, Amazon, and most Mobile Devices and Tablets.
*Available only with Enterprise Plan.
Embed on Any Website
Already have a website? Use your embedded code generator to customize and generate the code for your player.
Monetize
Generate revenue from your video content by integrating with Google DFP (to serve video ads). Integrate our player with Cleeng for Pay Per View and Subscription based monetization.
Geo-Fencing
Restrict your video delivery to a specific country or region. Any user outside your specified geographical area, will not be able to access your content.
MPEG DASH
Get access to the latest video streaming technology protocols, including MPEG DASH, RTMP and HLS.
Get highly available on demand video streaming services, backed by our 99.9% Uptime SLA and supported by a team of experts, available around the clock.
Get a custom crafted on demand streaming solution, designed specifically to your requirements. Talk to our experts for a free consultation.
Talk to us about a solution for...

Websites
Is your website running slow? Let us help improve user experience, capacity and security. Talk to us.

Database
Are you looking for fast, secure and scalable database solutions? We deploy custom crafted, managed database solutions for your business. Give us a call.

Business Applications
Hosting your own applications can lead to disasters. Our managed hosting solutions deliver reliability and peace of mind.

Private Cloud
Are you ready to move to the cloud. We deliver custom crafted private cloud solutions, with dedicated hardware and infrastructure.

Live Video Streaming
Deliver rich media to any device, Globally. Our low latency network is built for streaming.

Web Hosting
Industry leading uptime, low prices, and 24/7 customer support. Chat with us for more details.

CHAT WITH AN EXPERT
Or call us at 1 917 284 6090
Innovative Video on Demand Streaming Services
Deploy your on demand video streaming services on our platform, and deliver your rich media, to any device, anywhere, with low latency. Call or chat for more information.