BARIX INSTREAMER - $379
General Purpose Network IP Audio Encoder
Encode your analog audio source in real time and send it to our serves through the built-in Ethernet connection. The Barix Instreamer is compatible with our SHOUTcast or Icecast audio streaming platform.
Already have a Barix Instreamer? Follow our step by step tutorial to setup your encoder with Primcast radio streaming services.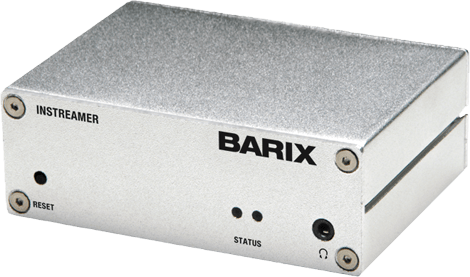 The Barix Instreamer is simple and versatile. Take your analog audio signal and turn it into digital MP3, PCM, G.711 or G.722 formats. Supported streaming protocols include TCP, UDP, Shoutcast and Multicast RTP.

Applications
Shoutcast/Icecast Source Encoder
Live IP Audio Encoder for Streaming Applications
Source Encoder for IP Audio Distribution Applications
Background Music and Music-on-Hold encoder for VoIP Applications
Low latency IP Audio Encoder for multichannel applications
Confidence Monitoring and Vox Switch for Broadcast Applications
Features
MP3 Encoding (low Latency)
Shoutcast/Icecast Source capability
Line Level Input (Stereo)
IP Streaming via TCP, UDP, RTP, Multicast
G.711, G.722, PCM linear Encoding
Audio Level Supervision with SNMP Trap generation
RS-232 Serial Port
Power Supply (micro USB)
Functionality
You need reliable audio encoding directly from your studio. Use the Barix Instremer to take any analog audio feed from your radio station, to our servers and on to your online audience. The device fully integrates with our Radio Streaming Services. Call or chat for more details.
Electrical
5V, max. 1A through Micro-B USB connector
External power adaptor, 100-240VAC, 5W, included
Ethernet
RJ45, 10/100Mbps auto, Link & Activity LEDs
Protocols: TCP/IP, UDP, RTP, DHCP, SNMP, SIP
AutoIP, SonicIP, IPZator to ease address assignment
RS-232
300..230'400 Baud asynchronous, 7/8 bit
DSub 9 pin male
serial tunnel, control and metadata input support
Audio Input
RCA connectors, unbalanced, 2 kOhm impedance
Clipping level 5.3 dBu, 4 Vpp
Frequency response (-3dB) 20..20'000 Hz *
Signal to Noise Ratio 89dB, THD <0.03%
Stereo crosstalk -89dB
Input signal attenuable by software setting (-3..+19.5dB)
* depends on used codec, best results @48kHz PCM
Headphone Output
3.5mm jack
volume adjustable via browser
announcement of IP address (SonicIP)
Audio formats
MP3, encoding/decoding up to 192/320kbps
VBR and CBR support
PCM 16bit @8, 16, 22.05, 24, 32, 44.1, 48 kHz
G.711, uLaw, aLaw (sample rates same as PCM)
Mechanical
Aluminum case, 225g, separate mounting bracket
available 4.25" x 1.5" x 3.1" (108mm x 38mm x 78.7 mm)
Software Environment
Proprietary multitasking OS
Application firmware packages available from Barix
Development Environment for custom functionality
(ABCL development kit) available free of charge
MTBF
(calculated according to MIL217F at 25°C) min. 540 000h